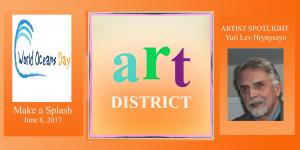 NOTE FROM THE EDITOR:

This month we spotlight photographer Yuri Lev Hrynyszyn from New Jersey who "attempts to praise or honor the mundane with a sacred light". His work is thoughtful and beautiful. Hopefully you enjoy learning more about him and his artistic style.

This issue also brings awareness to "World Oceans Day" which lands on June 8th this year. Click on any of the links to read more about how you can help make a difference. Please leave comment and share how you plan to participate...everyone can MAKE A SPLASH!

Volume #4 of the ARt diSTriCt Magazine features the Fine Art America group the ArT diSTriCt which celebrated its two month anniversary last week. The group continues to be ranked Number One and now boasts over 970 members. It continues to be a hub of activity for its members to connect with art lovers from around the world. The mission here at the magazine is simple: To share with you "the Art Lover" some one-on-one interviews, showcase artists, keep you informed on events, news, promotions and CELEBRATE the creative arts!